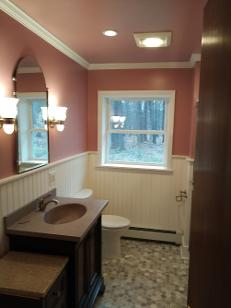 Kellogg's Painting
Leeds, N.Y 12451 Greene County
(P) 518.965.0720
(F) 518.943.1228
Catskills and Hudson Valley NY Interior House Painting Photo Gallery
Kellogg's Painting is a professional interior house painting contractor based in Leeds, NY, which is in the town of Catskill not far from Hudson NY. Kellogg's Painting Company has been providing residential and commercial interior painting services since 2007 in Athens, Catskill, Cairo, Coxsackie, Durham, Saugerties, Windham, Woodstock NY and other areas of the Hudson Valley and Catskills.
Kellogg's Painting employees are a professional team of painters that are safety trained, knowledgeable and skilled when it comes to interior painting. The painters at Kellogg's Painting paint with pride and do not compromise quality. Kellogg's Painting is a fully insured painting contractor in up state NY, including general liability insurance and workers compensation insurance, which are required by New York state law. All of our residential interior house painting services are backed by our reputation and a written labor warranty. The written labor warranty is a separate warranty from the paint manufacture warranty.
Kellogg's Painting Company knows and understands that homeowners need an interior home paint job that will give great durability, but is also cost effective. Call today 518.965.0720 to learn what sets our painters apart from the competition in the Hudson Valley and Catskills New York areas. Do not take our word for it. Read what some of our past painting clients have to say about Kellogg's Painting contracting services in NY.
Below you can view a few photos of some of our past residential interior painting.
Watch Videos of Kellogg's Painting projects on Kellogg's Painting YouTube Channel