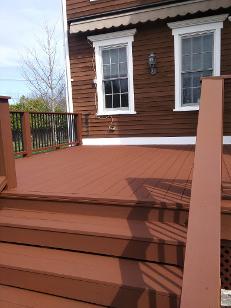 Kellogg's Painting
Leeds, N.Y 12451 Greene County
(P) 518.965.0720
(F) 518.943.1228
Hudson Valley and Catskills NY Deck Staining Contractor
Kellogg's Painting Company is a professional deck staining and sealing contractor in the Catskills and Hudson Valley New York. Our company cleans, restores, protects and beautifies your homes deck, fences and other outdoor wood. We are a Sikkens and Wolman Certified stain contractor. Below are photos of a few projects we have completed in NY.
Decks in upstate NY areas should be properly cleaned at least once a year and in general re stained every other year. Some decks that are exposed to the sun most of the day and have a sealer, transparent or semi transparent stain may need a maintenance coat of stain annually. Visit our deck staining page for more info on Kellogg's Painting deck staining and sealing services in NY.
Kellogg's Painting provides deck staining and sealing contractor services in, but not limited to Athens, Cairo, Catskill, Coxsackie, Hudson, Saugerties, Windham, Woodstock NY and more areas in the Hudson Valley and Catskills NY.
Don't just take our word for it that we are deck staining professionals in NY. Read what some of our past clients have to say about our deck restoration process.
If your deck is in need of restoration call Kellogg's Painting today 518.965.0720for your free in home consultation to learn how our professional deck staining technicians can restore, protect and beautify your Hudson Valley or Catskills NY deck.